MEKU Suction trap


Order no.: 10.0021
The insect suction trap may be used monitoring insect population in a height of 1,6 to 1,8 m above the floor. Using a fan of
32 m³ / min suction power results in a flow rate of 2 - 3 m / s in a distance of 250 mm from the suction center.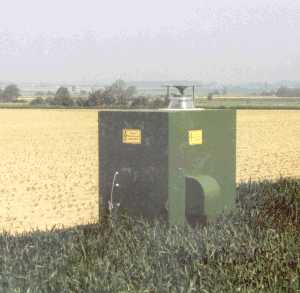 The trapped insects are slowed down due to a diffusor behind the suction openeing. Thus collecting of living insects is made possible. The samples are collected in 500 ml screw cap jars.
An automatic changer system allows using of up to eight jars.
Sample collection is controlled by a programmed switch clock. Repeated suction into the same jar as well as suction at different times into different jars using preselected suction times is possible. At the end of the single suction cycle, the changer system moves back into the standby position so that no dirt may fall into the jars during operation pauses.
A regular 400 V power outlet is to use powering the trap. Functions of the fan and the changer system are supervised by the control unit. An error indication is supplied on the controller in case of malfunction.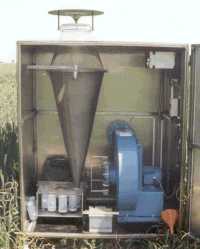 The insect trap is equipped for outdoor use. Four eyelets are mounted on the side of the housing to ease transport of the trap by means of two carrying bars. Another arrangement has been prepared for hanging the trap on to a front-loader.